Barbara Lopez
Musician, Composer, Author, Instructor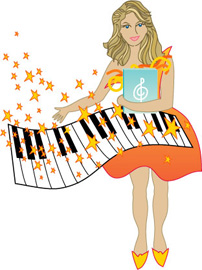 Barbara is now accepting new piano and vocal students for the fall semester. Now is the perfect time to start or continue your musical education! Call (831) 479-8900 to schedule your introductory session.

Please click on the links below to listen to some selections of Barb's music. "Beyond the Waves" is a peaceful original piano piece. "At the Beach", "Autumn Winds" and "Rio" are original instrumentals by Barb's Band, and "Orange Colored Sky" and "When Sunny Gets Blue" are jazz standards that feature vocals by Sasha Thomas-Brown.

Please use the navigation on the left to find out more about materials I have created for piano teachers and students. You will also find a listing of my CD's, information about special occasions and venues.
And before you leave, please sign up for my email newsletter so I can send you information about upcoming events and information.