About the Artist
Barbara Lopez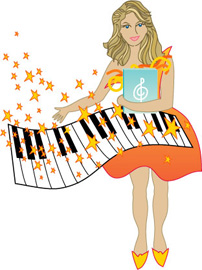 Along with her father's heritage, Barbara's musical lineage goes back to the 19th Century, to that of the great Franz Liszt, reputed to be a pianist who had no equal (1811-1886). Barbara's classical piano teacher, Maestro Henry Wilhelm, studied with two students of Liszt, as well as a protégé of Anton Dvorak. Wilhelm's passion for the music of these immortal composers inspired Barbara to great accomplishments in playing and composing. Barbara says, "Time stops when I play the piano and write music."

In addition to her music, Barbara enjoys swimming, dancing, cooking, entertaining friends, travelling, and walks on the beach near her home in Santa Cruz, California. Barbara patterns her life philosophy after that of her mother Margaret, who ran her first marathon at the age of 70. After climbing two of Colorado's famed "Fourteeners" (14,000' peaks) in her seventies, Margaret went on to ride her bicycle 80 miles on her 80th birthday, and 100 miles on her 82nd birthday. "All creatures must age in time," Barbara says. "But as human beings, we have the opportunity to stay physically active, mentally sharp, and young at heart."

Career Highlights
Barbara Lopez attended the University of Chicago from 1968 to 1970. In 1990, she received a Bachelor of Arts degree from the University of California at Santa Cruz, with an emphasis on piano performance. In 1993, Barbara graduated from San Jose State University, with a Master of Arts in Music, with an emphasis in composition, including MIDI, synthesizers, computer software, film scoring, and recording.

As a Performer
Barbara is a pianist and performer with both technical skills and musical passion. She has performed solo and with group throughout Northern California and Hawaii.

Performances include:
ˇ Kahala Hilton Hotel in Hawaii
ˇ Kuumbwa Jazz Center of Santa Cruz
ˇ The Lodge at Pebble Beach
ˇ Carmel Valley Ranch
ˇ Lefty O'Doul's on Union Square in San Francisco

As a Composer
People say that Barbara's music is both uplifting and soothing. They listen to her music to relax and get inspired. People play her CDs during romantic dinners, or while driving in rush-hour traffic. As one listener put it. "Barbara's music always seems to be just the right thing."

As a Teacher
Barbara's students range in age from six to sixty five. They find new awareness and gain the ability to express their individual talents through music. Barbara is currently on the faculty at Cabrillo College in Aptos, and also instructs students in all levels and styles of both piano and voice in her private studio.

As a Special Events Performer
Each of Barbara's performances is unique and customized for the event. She has a gift for understanding the audience and presenting her music in a way that moves, soothes and entertains them.

Weddings-Barbara has played piano and organ at more than 1,000 weddings (link to weddings here), performing music chosen by the bride and groom, and helping to arrange the ceremony. Brides typically exclaim, "Your music was perfect for our wedding!"

Parties-Barbara loves to entertain at dinners, receptions, and all kinds of parties. She is adept at playing everything from quiet dinner music to entertaining and getting people to join in for spirited sing-alongs. Many satisfied hostesses have remarked, "Your music was the highlight of our party!"

Church Music-Barbara has served as Organist, Pianist, and Music Director for churches in the bay area, and has a total of fourteen years of experience in church music, including directing choirs.